Tech News
| | | | |
| --- | --- | --- | --- |
| America's Favorite Cake Maker Buddy Valastro Installs $100,000 Home Control System to Automate Every Aspect of His New Dream House | | | |
CARLSBAD, Calif., May 9, 2011 /PRNewswire/ -- America's favorite cake maker, Buddy Valastro of Carlo's Bakery, can control and automate every aspect of his new 7,000 square foot New Jersey dream home, right from his iPhone or iPad with the ELAN g! Home Control System he just installed.
(Photo: http://photos.prnewswire.com/prnh/20110509/NY97465 )
When Valastro moved in 2010, he didn't know much about home automation. He had a new music distribution system installed, but that was it. Two days after closing on the house, he was introduced to Chima Gale, owner of 360 Media Innovations, who showed him how the ELAN g! IP-based Home Control System could make his life, and his home, simpler to manage. After a short demo at the set of Valastro's television show, Gale had him hooked. Now, they have just completed a $100,000 ELAN g! installation that lets Valastro control every aspect of his home from around the globe.
"In today's world, if you don't embrace new technology, you get left behind," Valastro said. "I use state-of-the-art appliances in my kitchens, but had never spent much time thinking about other parts of the house. So I said to myself, 'I want a space-age house. I want to turn off all the lights with one button before I go to bed, and I want music playing when I walk into the kitchen in the morning.' The best thing about this system is it took no time at all to learn to use it. My family knows how to use an iPad and an iPhone, so the software feels just like any other app we use on a daily basis. Having all the systems – the heating, lighting, music, and alarms – adjust themselves throughout the day has made everyday life simpler for me and my family."
And the system doesn't just turn lights and music on and off. Valastro's house is fully integrated, so he now has total mobile control over the home's 68 light switches, four-zone HVAC system, security and surveillance system with 24 cameras, whole-house audio system with 42 ELAN Elios speakers in 17 discrete zones including the master bathroom and three-car garage, and he can even control the pool equipment.
The system is so extensive, you can hardly turn a corner in the house without seeing a touch screen control panel. There are 12 TS7 touch screens that double as digital picture frames, two TS2 touch pads, 4 On-Screen Displays (OSD) on TVs throughout the house, three new iPod touches and two new iPads in addition to the six iPads the family already owned. As if that were not enough, there is a vanishing-mirror TV above the sink in the master bathroom.
"Nobody can deny that the adoption of home control is growing by leaps and bounds, and the home is quickly becoming an extension of our digital lives," said Gale. "The ability to help someone go from a simple dedicated music distribution system to a full-fledged home control system, accessible from anywhere in the world, is what makes today so exciting for the industry. The fact is that everyone wants home control. With the ELAN g! Home Control System, everyone can have it."
In fact, Valastro's appreciation for the ELAN g! Control System will soon extend beyond the home, as he and Gale later this year integrate the g! System throughout Valastro's brand-new 35,000 square foot command center, a high volume bakery production facility in Jersey City, New Jersey.
Look for a profile of Buddy and his new high tech dream home in the September 2011 issue of Electronic House magazine.
Available starting at $1860 for a single-room, four function control solution, the ELAN g! Series Home Control System can be expanded quickly and cost-effectively to enable whole home control of every room appliance. ELAN g! provides users with the most uniform and intuitive icon-based control from their favorite devices, including TVs, touchscreens, touchpads, PCs , iPhones, and iPads. The standardized interface works across platforms, so that the trendy g!Mobile app users love on the iPhone appears and works similarly on ELAN touchscreens, valets and handheld remotes as well as users' televisions and mobile devices. And the system's IP backbone makes it just as easy to control the system from across the room - or across the globe.
For more information on the new Elan G Home Control Solutions please contact us http://www.linkyourhouse.com/contact-us.html
or call us at 770-209-0086 option 1 for sales.
| | | | |
| --- | --- | --- | --- |
| Crestron Embraces Apple iPad Touch Screens | | | |
Crestron Mobile and Crestron Mobile Pro control applications now provide systems designers and developers with effective new abilities that simplify and expand the look of Crestron and Prodigy touchscreen controls on Apple iPads and iPhones. Adding many more features towards the already robust, best selling control application, built-in support for indicators and sliders now allows developers to simply create amazing intuitive finger touch control effects very quickly. Lowering shades within the bed room with a swipe of the finger on an iPad, iPhone or iPod device, or setting and checking room temps from animated graphical indicators is easy. Also, homeowners and facilities managers are now able to view streaming video from video security cameras or from any available video source via a Crestron Network Video Streamer or any MJPEG device, directly on their mobile product.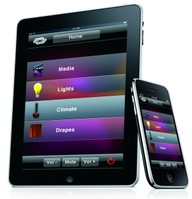 Bigger GUI projects are now able to be loaded directly to the mobile device, permitting more compact control systems to operate full-featured touchscreen layouts. The most recent version from the Crestron Mobile application improves Apple iPads and iPhones to genuinely take part in the Crestron touch panel family. So now, the characteristics of full Crestron and Prodigy touch sections can be found in a mobile format.

Offered by the iTunes App Store, Mobile Pro G was recently rated #1 Top Grossing iPad Lifestyle Application, called the only industry iPad Application to attain Top 100 status within the iTunes App Store "Top Grossing iPad Apps" category.

Almost all the programming abilities of VisionTools Pro-e, Crestron's comprehensive touchscreen design software, are usable when creating GUIs for Apple mobile products. Using VT Pro-e, developers can make stunning touchscreen control interfaces which are fully integrated within a Crestron control network.

In this way Apple has basically put a touchpanel in the hands of millions - and made it affordable. Mobile Pro G instantly turns the iPad right into a fully-functioning Crestron touch screen. Uniting the most popular mobile device with the most effective control system provides contractors with limitless versatility in system design and GUI options, and also the homeowner or facilities manager gets mobile control abilities not formerly available, laet alone thought possible just a couple years ago.

Merging the advanced functionality of Apple's iPad and iPhone with Crestron's control innovation, Crestron Mobile and Mobile Pro applications turn any Apple mobile device into an effective Crestron or Prodigy touchscreen, enabling reliable, whole home and building control from anywhere and at anytime. From any iPad, Apple iPhone and iPod Touch, customers can control lighting, thermostats, and audio configurations and watch streaming video in multiple locations, like a primary residence, vacation office and home, or across a campus. The ultra-intuitive graphical interface also provides real-time feedback, exhibiting the status of room temps, audio volumes and metadata including album, song and artist, shade positions and lighting levels, directly on the mobile device screen.

To explore how Crestron Mobile applications can transform the mobile home control or building control experience of commercial and residential environments, check out: http://www.crestron.com/apple

For more information on a Crestron Home please contact us here http://www.linkyourhouse.com/contact-us
| | | | |
| --- | --- | --- | --- |
| ELAN g! is named 2011 Platinum Level Best Control System | | | |
---
---
ELAN® g! HOME CONTROL SYSTEM AWARDED 2011 PLATINUM LEVEL MARK OF EXCELLENCE BY CEA TechHome DIVISION



CARLSBAD, CALIFORNIA, March 21, 2011 - Capping a three-month period that has seen record orders for its ELAN g! Series System, ELAN Home Systems (www.elanhomesystems.com) today announced that its revolutionary IP-based home control system has received the Platinum Level 2011 Mark Of Excellence Award by the Consumer Electronics Association (CEA) in the category of "Best Control System". The announcement and presentation of the award was made at the Spring 2011 EHX Show in Orlando, Florida at the Orange County Convention Center.

"The ELAN g! Home Control System changes everything, and for the better," said Paul Starkey, President of ELAN Home Systems."It is easy to sell, demonstrate, and install, and it's equally easy for customers to enjoy, maintain and upgrade in the future. In our opinion, ELAN g! is the most intuitive, modular, and cost-effective way for customers to realize the full benefits of whole home automation."

The Mark of Excellence Awards program, presented by CEA's TechHome Division, recognizes the best in home electronics products, services, and installed technology. Each year manufacturers, distributors, and systems integrators enter to compete in award categories for this coveted honor judged by independent experts within the industry.

The ELAN g! Series Home Control System provides users with the most uniform and intuitive icon-based control from their favorite devices, including TVs, touchscreens, touchpads, PCs , iPhones, and iPads. The standardized interface works across platforms, so that the trendy g!Mobile app users love on the iPhone appears and works similarly on ELAN touchscreens, valets and handheld remotes as well as users' televisions and mobile devices. And the system's IP backbone makes it just as easy to control the system from across the room - or across the globe.

Individual "apps" for each subsystem allow the user to control security, climate, lighting, media, irrigation, pool/spa, messaging, video and photos with the flick of a finger. Access is fast and secure through any ELAN home interface or globally with mobile Internet enabled devices like the iPhone, iPod Touch, iPad, Netbooks, and PC Tablets. Since the intuitive interface empowers users with personalized scheduling and detailed history views, high consumption subsystems like lighting and climate can be closely monitored and managed for a greener lifestyle - and substantial energy savings.

About ELAN Home Systems:
Since 1990 ELAN® Home Systems has been an industry leading manufacturer of innovative, award-winning Multi-Room audio/video systems. ELAN systems were the first to integrate audio, video, phones and third-party products to create a seamless, easy-to-use "whole house" solution. ELAN systems and products are distributed through a comprehensive channel of select Dealers and Distributors throughout the United States, Canada and more than 58 countries worldwide. ELAN Home Systems is part of The AVC Group. To learn more, visit www.elanhomesystems.com.

About The AVC Group, LLC:
Headquartered in Carlsbad, California, The AVC Group, LLC (www.theavcgroup.com) is a portfolio of pre-eminent manufacturers and marketers of state-of-the-art consumer and commercial audio, video, and control system solutions. The AVC Group is comprised of the following industry leading brands: NILES® Audio (www.nilesaudio.com), ELAN® Home Systems (www.elanhomesystems.com), Xantech® (www.xantech.com), ATON® (www.atonhome.com), and Sunfire® (www.sunfire.com). The AVC Group, LLC is a subsidiary of Nortek, Inc.'s (www.nortek-inc.com) Home Technology Group.

Link Your House is Atlanta's Premier Elan Dealer-call us 770-209-0086 and schedule a Free-in-Home Demo.
| | | | |
| --- | --- | --- | --- |
| Unveiling of New Apple iPad 2 Expected Today | | | |
Apple is widely expected to unveil the second generation of its wildly successful iPad tablet Wednesday at a media event in San Francisco. FoxNews.com reported Monday that the device is not likely to to run on a faster 4G network, though sources say the iPad will be "wicked fast" -- and that battery life may even improve.
Apple is highly secretive about upcoming products, but bloggers have also speculated that the next-generation iPad will be thinner and lighter; come with two cameras, one on the front for video chatting; and have a more powerful built-in speaker.
Apple sold more than 15 million of the original touch-screen tablet computers in the first nine months on the market. An updated device will help the company widen its head start against competitors, most of whom are just beginning to sell their first tablets.
The iPad runs the same basic software as Apple's iPhone and iPod Touch. It has a screen that measures 9.7 inches diagonally and it runs for about 10 hours unplugged. The first-generation models start at $499.
The company also has not said whether CEO Steve Jobs, who is on an indefinite medical leave of absence, will make an appearance at the event.
Apple's event is scheduled to begin at 1 p.m. EST on Wednesday.
| | | | |
| --- | --- | --- | --- |
| BlueBolt Expanding for Whole-Home Energy Management | | | |
BlueBolt
, a cloud-based
energy management
system used primarily for audio/video systems, will expand later in 2011 to include energy monitoring and control of specific devices throughout the home.
Panamax
/Furman, the company behind BlueBolt, will introduce a plug-in load control device and a wireless bridge that communicate with each other via the ZigBee wireless mesh network protocol. Users and integrators can then see the energy usage of the devices in the house and control them via web-based interfaces on computers or mobile devices. A variant of the plug-in load controller will be available to electric utilities for
smart grid
rollouts.
BlueBolt is available with select Panamax/Furman's BlueBolt-equipped power conditioners and battery backups that are used primarily in home theater and audio/video systems. In addition to monitoring energy usage and cutting power to components to save energy and curb wasteful vampire power, BlueBolt can be used to remotely reboot components and receive diagnostics, saving both homeowners and CE pros from costly visits.
The MD2-ZB two-outlet plug-in module contains two discretely sensing and controllable outlets. Lights on the unit indicate communications and ground faults. The home version to be sold with the wireless bridge will also contain surge protection, according to the company. One bridge can work with several of the MD2-ZB modules to form a ZigBee mesh network in the home. The target price for the devices is $100 each. This means the bridge and direct plug-in would be $200 together, and $100 for each additional plug-in unit. BlueBolt remote monitoring will come with the devices.
Plug-in modules for appliances may be introduced in 2012.
According to Marshall Currier, national trainer for Panamax, dealers are implementing BlueBolt into control systems so BlueBolt can remotely monitor and reboot a control system, acting a secondary backup system. BlueBolt works with
Control4
,
Crestron
,
RTI
,
Savant
,
URC
and others to come, the company says.
The most recent BlueBolt software version 1.2, introduced in August 2010, contains a number of energy management and budgeting options:
Ability to enter utility company per kilowatt hour (kWh)
Budgeting alerts
Conservation events, such as turning off outlets on a schedule
Auto rebooting
Panamax/Furman products that currently work with BlueBolt include:
Panamax M4320-PRO IP Power Conditioner
Panamax M4315-PRO IP Power Conditioner
Panamax MB1500 IP Uninterruptibe Power Supply (BlueBolt card sold separately)
Furman F1500 IP Uninterruptibe Power Supply (BlueBolt card sold separately)
The company says the plug-in ZigBee modules will be controllable by third-party control manufacturers, assuming they create compatible drivers.
<< Start < Prev 1

2

3 4 5 6 7 8 9 Next > End >>


Page 2 of 9