Networking
| | | | |
| --- | --- | --- | --- |
| Luxul Xenx High Performance Flush Mount 802.11n Wireless Access Point | | | |
XAP-1010
Luxul Xen™ High Performance Flush Mount 802.11n Wireless Access Point

The Luxul Xen™ High Performance Flush Mount 802.11n Wireless Access Point (XAP-1010) provides exceptional Wi-Fi performance in a sleek design that allows for unobtrusive mounting within a ceiling or wall. It implements Luxul's exclusive and patented Xen3D™ technology to deliver 4 times the coverage of traditional Wi-Fi equipment. Because it only requires a single Ethernet cable for both power and data, it is simple to install and is a great choice for delivering single access point whole home or small office Wi-Fi coverage.
USE THE XAP-1010 TO:

•Provide a Wireless AP that Eliminates Unsightly Cables and Equipment
•Deliver "Whole Home" or Office 802.11n Wi-Fi Coverage
•Increase Mobile Client Device Network Sensitivity and Performance
•Simplify Installation While Minimizing Setup Time and Expense
•Eliminate Client Device Roaming Issues
Features:

•Patented Xen3D™ Technology
•Highest FCC Approved Performance (Effective EIRP 36dBm)
•18dB of Receive Gain Increases Client Device Network Sensitivity
•2.4 GHz IEEE 802.11n Compliant
•QoS Functionality
•Enhanced Multi-Level Security
•Up to 8 SSIDs and Support for VLAN Tagging
•Single Cable Installation with POE
•Easy Setup through Web-based XenSmart™ User Interface
•Install in Wall or in Ceiling
Link Your House is Certified in Wireless Network Design and Set-up. For more information on this or any of our Network Solutions please call 770-209-0086 for more information.
Remote Power Cycling Phenom
This is the best single outlet network power switch made. It will automatically reboot crashed systems or let you control power from anywhere, anytime.
Web Browser Power Control
12 Amps A/C Power Switching
IEC connectors with NEMA cords.
10/100 Network Connection.
Telnet control; Command Line Interface (CLI).
Dual AutoPing with Logical AND/OR Setup.
Real Time Event Scheduling.
Software Developer Tools
Wall and DIN Rail Mounting
Please call Link Your House, Inc. at 770-209-0086 for more information.
| | | | |
| --- | --- | --- | --- |
| World IPv6 Day Begins Today -Websites Start Your Engines | | | |
Back in January, Google joined the Internet Society and a handful of leading Internet companies to announce World IPv6 Day. The announcement was a rallying call for adoption of the new Internet Protocol; now, less than six months later, participation has grown to more than 400 organizations. Google believe's this is an important milestone, as IPv6 is the only long-term solution to IPv4 address exhaustion, and its deployment is crucial to the continued growth of the open Internet.

About 24 hours from now, at midnight UTC on June 8 (Tuesday afternoon in the U.S., Wednesday morning in Asia), all the participants will enable IPv6 on their main websites for 24 hours. For Google, this will mean virtually all our services, including Search, Gmail, YouTube and many more, will be available over IPv6.

In all likelihood, you won't even notice the test. The vast majority (99.95%) of people will be able to access services without interruption: either they'll connect over IPv6, or their systems will successfully fall back to IPv4. However, as with any next-generation technology, there may be teething pains. We estimate that .05% of systems may fail to fall back to IPv4, so some people may find Google, Facebook, Yahoo, Bing and other participating websites slow or unresponsive on World IPv6 Day. This is often due to misconfigured or misbehaving home networking equipment, such as home routers, that can make a computer think it has IPv6 connectivity when in fact it's not working.

Over the past few months, we've been working hard with other industry players to prepare. Operating system vendors and browser manufacturers have been releasing updates to resolve IPv6 connectivity issues—for example, Google Chrome now incorporates workarounds for malfunctioning IPv6 networks—and we've seen router manufacturers test their devices for robust IPv6 support as well. For our part, we've been busy adding IPv6 support to services that didn't yet have it, and fixing minor issues with those that did. And since the best way to find bugs in your services is to hammer on them yourself, Google employees have been operating in "World IPv6 Day mode" for several months now.

We've also been thinking about how best to notify people who may have connectivity issues. To that end, we've run a prominent notice in Google Search for people who may not be able to connect, directing them to a new test page and help article. If you're curious, you can test your connection now at ipv6test.google.com.
| | | | |
| --- | --- | --- | --- |
| Philips TV's to get Wireless Internet Access | | | |
| | | | |
| --- | --- | --- | --- |
| Vizio Announces New Content Providers for Internet HDTVs | | | |
News of Vizio's planned Internet connectivity has been leaking out ever since the company's intentions were announced at CES earlier this year. Now, Vizio's VIA service gets more than just a handful of content providers, and the list is fairly compelling.
In addition to previously announced content partners Rhapsody, Amazon on Demand, Blockbuster on Demand, Flickr, Pandora, and Netflix, Vizio has added Vudu, Showtime, Revision 3, Radiotime, and Rallypoint Sports, as well as eBay for shopping, and Facebook and Twitter for social networking.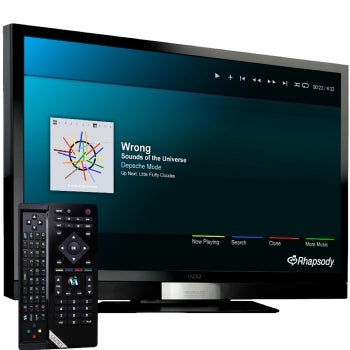 Vizio VIA Connected HDTVs come with 802.11n Wi-Fi, as well as an Ethernet port. The TVs come with a universal remote that has a built-in keyboard for easy navigation, and is equipped with Bluetooth so you can type without having to worry about pointing the remote at the TV.
These Web-connected HDTVs will be available this fall. And, while the on-demand-ness of Netflix or Amazon might be appealing, you don't have to go out and buy an entirely new HDTV to experience those features- such services are on some Blu-ray players, on middle devices like the Roku Digital Video Player, and may be already available on your own TV and gaming consoles.
Sarah Jacobsson, PC World
<<

Start

<

Prev

1

2 Next > End >>


Page 1 of 2